FleshChasmer I is a console-style Action-RPG with 3D graphics.
First 3d RPG ever made for gp2x (since egoboo is a port) and ElseWhere just a fake myth.
Runs very well on 200mhz, RamHacked already(so you don't need bother cpuspeed untility).
Just download it and enjoy this piece of action.
The atmosphere of game is similiar to old horrors like Alone In The Dark.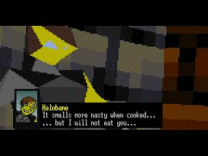 Download Link
TroubleShooting:
Game on pure SDL, so if you do not recieving sound install these
http://archive.gp2x.de/cgi-bin/cfiles.cgi?0,0,0,0,31,869
On mine gp2x unit FPS drop recieved after using Movie Player - reset helps.