disclaimer: The power consumption comes mostly from the screen background leds.
So, in 2014 ARM released the A15 (28mn) technology. Which was available one year later to non-insiders. Look at the power reduction...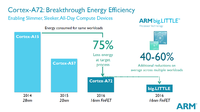 And now, in 2017 Artemis arrives on 10nm, and look at the sustainable burst: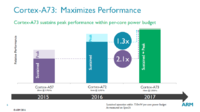 Smaller chip means less power and means less heat.
However: not all is gold there. They changed the 3D from Mali to Mimir (which probably means incompatibility once the daughterboard is replaced... until the software catches up.)
Now ARM makes the SoC, but this isn't an SoC that ARM will ever bring to market. It licenses out their design, and somebody (big chip companies) would have to make them (and pay for the license) before consumers can buy them
So this happened last month:
https://www.extremetech.com/computi...rm-chips-for-lg-on-upcoming-10nm-foundry-node
And SnapDragon will follow in Q1 of 2018:
https://www.tweaktown.com/news/57648/qualcomm-snapdragon-845-10nm-lpddr4x-due-q1-2018/index.html
So hopefully by the end of 2018 the prices would have dropped enough due to competition (although bigger companies might ask for such large volumes that it could stay unavailable for a year or two)
FYI: Iphone 8's SoC is also 10mn tech.
But 10nm is old news... 7nm is where it is at. Though the prices are too high and nobody wants them at that pricepoint, says Intel.