Here is a printable image for anyone who needs a paper model Pandora in a hurry.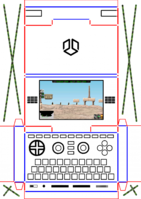 Red lines
CUT
Blue lines
FOLD
Only remove the areas marked with a big cross.
Try to print on A4 with the
Ignore Margins
option turned ON
Use the extended tabs to form the edges of the bottom panel.
I advise gluing some card under the lower console, then you can hold it without it buckling.
You could also cut out the SD card slots and put real sd cards in,
or cut out the screen and slide screenshots in and out. Or are you normal? :rolleyes:
Enjoy!
Using a good quality printer, the screen resolution should be correct too! (Unless it got lost in image processing!)