Hello everyone,
it's finally time to reveal my latest creation.
I planned to show it during the Gamescom but as it's all digitally now I'll show it here for you.
This time it's that innocent looking little thing...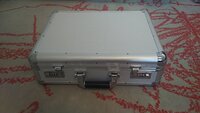 Guess what is at its heart...
Guess what it's second heart is
Let's have a look at the remaining two copartments in the middle:
Now we're done, right?
No, of course not.
It's nice and so, but at the moment it feels like a Pandora with only 2 shoulder buttons, if you know what I mean
There needs to be something special.
Google Stadia tells me: "Play where you want and how you want".
I laugh at them. They have no Idea what that really means.
WAIT.
There is still something important missing.
We can play wherever we want, but we need to get there.
WAIT !!!
HOLD ON !!!
I said: "Play where you want and how you want"
It's much more than a gimmick for me.
As I travel a a lot it is something I use in my everyday life and don't want to miss it any more
Last edited: