Joined

Oct 1, 2006
Messages

945
This is the original UNIX Rogue version 5.4 in PND form.
Please test. Thank you.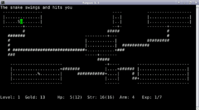 Description and Instructions Inside Spoiler:
Basic Gameplay:
In Rogue, the player assumes the role of an adventurer.
The game starts at the uppermost level of an unmapped
dungeon with a myriad of monsters and treasures.
The goal is to descend to the bottom level, retrieve the
Amulet of Yendor, and then ascend to the surface.
Until the Amulet is retrieved, the player cannot return to
earlier levels. Monsters in the levels become progressively
more difficult to defeat.
source:
http://en.wikipedia....28video_game%29
Basic Instructions:
To get started you really only need to know two commands.
The command ? will give you a list of the available commands
and the command / will identify the things you see on the screen.
You are the @ character.
Press space bar to advance through --More-- messages.
The complete guide to Rogue is included in the Documentation menu.
source:
http://rogue.roguefo...gue-5-4/man54/
Rogue 5.4 Pandora Port Behavior:
Saved game is automatically restored at next start.
The character can be moved with the keyboard keys or dpad arrows.
However, Shift <dir> to run only works on keyboard keys and not on the dpad arrows.
CTRL <dir> to run till adjacent only works on keyboard keys and not on the dpad arrows.
Pandora Port Credits:
Pandora port compiled from The Roguelike Restoration Project 5.4.5a source code.
A patch from fedoraproject.org was applied for fixing corrupt writing of savefiles.
Compiled on the Pandora using C/C++ Development Tools 0.0.39
http://rogue.rogueforge.net/
http://rogue.roguefo...4.5a-src.tar.gz
http://arm.koji.fedo...o?buildID=49924
http://repo.openpand...s.freamon.40n8e
rogue54.pnd
Last edited by a moderator: