Joined

Jun 20, 2011
Messages

4,378
"Starflight - The Lost Colony" is an open source project under GPL, it's a sandbox space game, like Elite in some way.
I can't find any thread about this game, but it can be good on the Pandora, it uses arrow keys and big buttons in the interface that can be useful on a touchscreen.
From what I read on the site it is developed in c++ and Lua, but maybe the Open GL thing can destroy every hope ? Can someone with some porting experience say more ?
This project was developed over a period of several years in C++ with Allegro 4.2. It was intended to be released as freeware from the beginning (with approval from original Starflight creator, Rod McConnell). Early design work began in late 2006 with a small group of fans who developed early prototypes and concepts for about a year in their spare time. In late 2007, a group of UAT students gave the game a boost as an internship project and demonstrated it at GDC in early 2008, but it still had a long ways to go! By late 2008, script code brought the plot to life with more realistic alien encounters and a new quest system was added. In 2009, the engine and scripts were mostly finished and the game was submitted to IGF (but was not chosen as a finalist). By mid 2010, the last beta was released.


The game is open source, but due to the complexity of the C++ and Lua code, no new core team members are needed and development has been frozen. If you want to download and explore the sources, you are welcome to!
http://sites.google....rflighttlc/home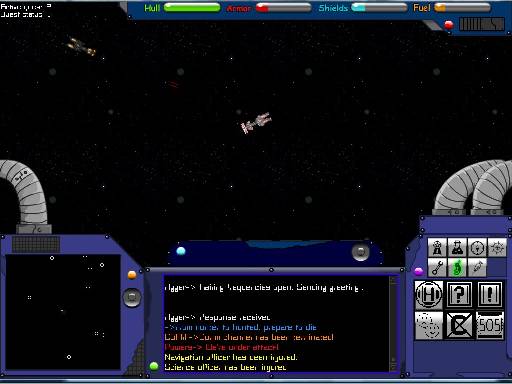 (There are more images in the Design section of the site)
Last edited by a moderator: