T̶h̶e̶ ̶A̶u̶t̶h̶o̶r̶ The Artist
Joined

Sep 18, 2013
Messages

850
hey.
My cintiq companion is starting to suffer from the infamous plugged in but not charging issue.
A development corner cutting that results in a very expensive piece of equipment being a bloody paperweight.
The jack design it's self is flimsy and I suspect from its location which is close to the CPU exhaust fan that heat also increases the strain on it.
They use a 3mm mircojack that is the weakest link in the chain. Now I've seen people resoddder these jacks but they quickly fail.
Is there any other styles of ports I could replace this with.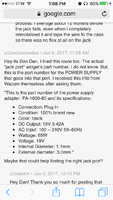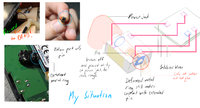 I'm wondering if it would be possible to replace it with an Apple MagSafe 2 replacement port, and use the 65watt charger.
However I do not know what pins would transfer over or if the voltage difference would affect anything magsafe2 charger ='s 20volts at 65watts vs 19v at 65watts.
Any insight or advice would be welcomed.