Joined

Apr 15, 2011
Messages

5,088
Website
Here is mine: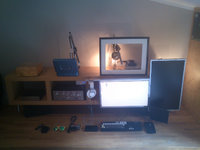 Shelf was free, but im pretty sure it came from ikea.

Desk homemade from ikea parts.

Bonus for guessing what the black square in the top right corner is.

Native Instruments Audio control 1 (in frame)

Sennheiser MKH 805 (in frame) Mounted on modded lamp.

Bonus for guessing what the gray box in frame is.

Sennheiser MKH 815T mounted to hammerlacquer chest.

HP 27" 1080p removed coating and bezel.

Dell U2410p  removed antiglare, buffed down, removed bezel and added controls back.

LG panel from ipad3 with rozsnyo display board extended on a tablet arm.

AKG K551 on custom aluminium hanger extending off the top of the monitor.

Topping D2

Pioneer SA-7300

Homebuilt DAC

Empty alu box

Celestion 5 speakers

CST 2545W-RC trackball

Steelseries 6Gv2 cherry mx black with orings, low-profile doubleshots/metal/ some novelty keycaps. Built up.

Rebirth openpandora

Pentax Q10 with C-mount lens

Sungod classic sunglasses

Logitech webcam pouch with monies, keys and cards.

Underneath the desk there is a inbuilt shelf with:

Abrahamsen V6.0 DAC

Denon DCD-425 cd player (havent used it yet)

Denon DRA-275RM receiver

Stinky footboard

Custom PC

Stinky footboard
Photo taken with xperia active phone, will use the real camera next time.
What does your PC setup look like?
Do you have a console-game setup?
Want to show which items you carry around with you?
Give help and hints. Share your own.
Last edited by a moderator: