Joined

Feb 1, 2006
Messages

1,800
Das Yinlips YDPG18 rüstet auf!
Vor kurzen habe ich ja die JXD S601 Open GLES Android Spiele Konsole vorgestellt, und nun legt man scheinbar mit dem Yinlips YDPG18 in einer aktualisierten Version mit neuem Prozessor nach. Auch hier klingt es nach viel Handheld für wenig Geld, auch wenn es trotz allem ein wenig mehr wie beim JXD S601 zu sein scheint. Dafür bekommt man aber auch einen stärkeren Prozessor wie es scheint, und vor allem einen noch stärkeren als beim "alten" Yinlips YDPG18. Mehr dazu hier in der News wenn Ihr wollt...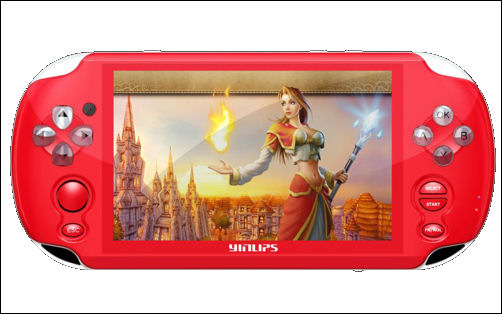 Laut Zitat gibts folgendes Neu im Vergleich zur alten Version:
The differences between Yinlips YDPG18 and Yinlips YDPG18 Upgrade Version are as below: the updated version is with Android 2.3 system, A10 1.5GHz processor(act more fast), 2-points touch screen, HD playback capabilities. Meanwhile, the machine also offers high-definition HDMI digital video output interface, supports up to Full HD 1080P video output. HD video can be output to large LCD TV display device, web browsing, software applications, 3D games, also compatible with this feature.
Das heisst also ein 1.5Ghz Prozessor statt eines 1.2Ghz Prozessors, auch wenn die Produktseite für die Upgrade Version aber einen 1.2Ghz Prozessor listet(?), einen Touchscreen der immerhin Dual-Touch erkennt und HD Playback welches auch bei 3D Spielen funktioniert. Das ist zwar scheinbar nicht so viel, aber da der Preisunterschied zwischen dem alten Yinlips YDPG18 und dem neuen Yinlips YDPG18 Core A10 Upgrade nur 10$ beträgt kann man es ja mal risikieren?
Ihr findet das Gerät für 145.99 Dollar (circa 110 Euro PLUS Zoll wenn ihr Pech habt) hier bei IShareGifts:
Yinlips YDPG18 Core A10 Upgrade Version bei IShareGifts
Quelle: Email und Webseite von
http://www.isharegifts.com/