http://www.indiegogo.com/projects/rocktheink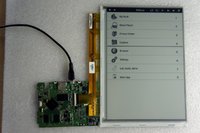 (here with a 9.7" 1200*825 e-ink screen)
I don't know if it's here that I've seen that, but I ended on that page somehow and now I'm considering getting one of these "SDK".
It's got a Rockchip 
RK2918 
Cortex A8
 CPU, 512Mo RAM, 4Go Nand, HDMI, …
There are quite a few screens compatible and available.
It's the 6" e-ink with capacitive touch and front lighting (ED060XH2) that looks to be the best pick for my use. With the "motherboard", it would be about the price of a good e-reader with e-ink screen (140€), but would be quite a bit more open to thinker with. Downsides : it doesn't come with a battery, neither with casing…
Don't know if the hardware is worth the price tag, so what's your opinion?