Administrator
Staff member
Joined

Mar 4, 2003
Messages

29,950
Age

45
Location
This will just be a pretty quick blog post without much explanation or anything else (more will follow soon
)
Finally, we
received the missing datasheet
for the driver IC as well as some other needed documentation, and shortly after, Nikolaus managed to do the following: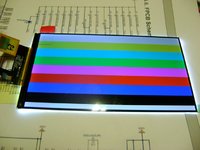 Now, before you are getting excited:
This is NOT a picture from the Pyra devboard.
It is a built-in test pattern from the driver IC.
However, it means that the LCD is now properly initialized - now we're talking
Shortly after however, Nikolaus managed to do this: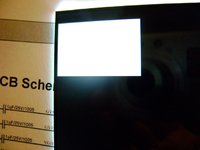 This doesn't look spectacular, I know. It looks like a white box on a black screen.
However, it isn't.
It's actually an X server with a white xterm window.
If you look careful, you can see a tiny symbol in the top-left corner of the LCD - that's the shell waiting for input.
It's very very small (well, FullHD on 5"...) and the camera is a bit overexposed.
But yes, that does mean:
We've got the LCD running on the devboard.
Now you can get excited.
I don't have the hardware PCB at home right now to connect the display myself yet, so I can't do any more pictures.
However, as soon as I get an updated version from Nikolaus, I'll do pictures and videos.
Now it's fullspeed ahead mixing the components further together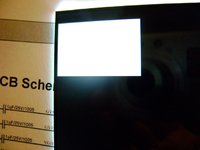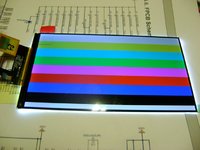 Last edited by a moderator: