Administrator
Staff member
Joined

Mar 4, 2003
Messages

29,907
Age

44
Location
Global Components just received a prototype for the TV Out Cables!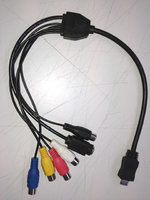 I'm going to pick it up today and will do a lot of testing with it.
If it works fine, it's finally time to go ahead and start the mass production (takes about 2 months - yes, REALLY
))
Remember: If you're interesting in getting one, please put yourself on the waiting list on the shop:
https://www.dragonbox.de/en/accessories/119-pandora-tv-out-cable.html
This helps me to find out how many cables I need to order and you'll also receive an eMail as soon as the cable is finished.
(If you already preordered right from the beginning, no need to do that, we got your order already).
Now, about already preordered cables:
I'm currently trying to ship out the cables to everyone who has preordered and paid one without any further costs (means: to both mine and Craigs customers).
However, Craig has over 500 customers waiting for a TV Out cable, which means it'll cost me a couple of thousand euro to ship them out.
I'm trying to compensate this, if everything works out fine, you'll all get them without any further payments.
But I cannot tell for sure if this works. In worst case, I'll have to charge production and shipping costs for you - but will give you a corresponding voucher for my shop as compensation.
So i.e. if I have to charge 10 EUR for the TV Out Cable, you'll get a 10 EUR voucher and could use that to order an SD Card cheaper together with it).
I'll let you all know in time