Administrator
Staff member
Joined

Mar 4, 2003
Messages

29,980
Age

45
Location
Things are slowly adding up!
Let's start with the biggest news first:  
1. The Case design
The case design is basically finished.
The only thing left is to print it, test it (together with the prototype PCBs) and make some final tweaks in case something doesn't fit properly yet.
Then it's time to produce the moulds and two months later, we can start producing the case.  
During that timeframe, we can also choose the colors (together with the community, of course).
I will probably publish a Blender file so everyone can work on color designs as well!  
I've rendered a few pictures for you.
Don't worry - weird stairs-like artifacts you can see on the case are due to importing a CAD file into Blender - the Mesh had a too low resolution.
In reality, these curves will be perfectly smooth.  
Now, what changed for the case since the last time I posted?  
The edges where your palms hold the device have been rounded.
This should make playing a lot more comfortable.  
The lid edges will have the corners changed to be slightly rounded in order to fit there.
You can easily see that in the picture here.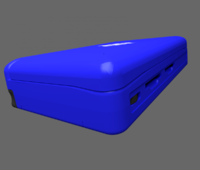 On this picture, you can see the new rounded lid on the left side and the old (not rounded one) on the right.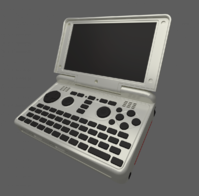 The shoulder buttons have been slightly tweaked so that the upper button has no dead spots (where you can't press them).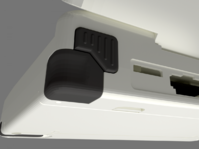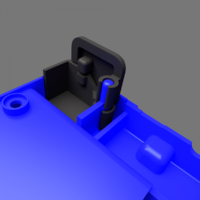 Some minor change (just cosmetic):
The front has been changed to look a bit more symmetric.  
I can't wait for the printed case
Let's move on to the...  
2. LCD Cable
Samples of Pyras LCD Cable will be ready in about 15 days (add some more for shipping).
As you know, we tweaked it so that will (hopefully) not fail again.  
BTW: The LCD Cable of the Nintendo 3DS uses the same solution we do: Rounded edges everywhere.
As the LCD Cable itself doesn't have any parts on it, it's also a lot cheaper than Pandoras (about 3 USD compared to the current 10 USD).    
Next up:  
3. The PCBs
Nikolaus spent the last week populating the main prototype and display PCBs.
These are now finished - the only thing missing is the Wifi module (read below).  
The layout for the CPU PCB is not yet finished (as Nikolaus didn't manage to clone himself yet), but as we're still waiting for one sample component, we couldn't populate those yet anyways.
However, we can fully test the main- and display PCB without the CPU PCB as well.    
4. The rotator Chip
Nikolaus just started to work on it today, but as with every MIPI device, it's a lot of trial, error and browsing through documentation to get the correct sequence.
Let's hope he's lucky and will stumble accross the correct sequence within a couple of days.
The manufacturer tries to provide as much help as possible as well.  
I'll keep you posted!      
5. Some stuff we need to solve
Well, not everything is nice and wonderful in real life, and that's also the case with designing and producing a new device.
The leadtime we got for the Wifi Chip is 30 (!!!) weeks - which is WAY too long.
Jorjin (the module manufacturer) could produce them within a couple of weeks, but it seems to take exceptionally long to get the needed chipsets from TI right now.
Also, some sample chips we ordered from TI two months ago haven't arrived (that's the part missing for the CPU PCBs).  
It's not a dealbreaker, as we know we can get these parts, but we surely don't want to wait that long!
My contact to TI is on holidays this week, but I'll try to find a solution for that together with him next week.  
We're also currently looking for different Wifi SIP manufacturers in order to be able to have a solution that doesn't take 30 weeks.
I'm sure we can work something out, but it's a bit of annoying work to do.    
So much for the news today. We're moving along
In case there's a part of the case you want to take a closer look on, let me know and I'll render it