Joined

Jan 10, 2008
Messages

895
Location
Website
OK, lets move on with TV-outs! Anbody watching
TinyBoB thread
already could see my first atempt:

,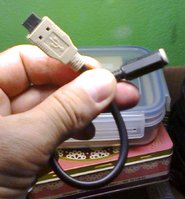 ,

(actually it is second one, but first was ugly - without TinyBoB).
Soldering is little tricky, but I'm getting used to it. So I'm opening pre-orders BUT BEWARE -
don't pay until I ask in PM
! As I see from poll - demand is quite high. I have 100 EXT port connectors ready for cables - but it must be about 700 of them out there.
Other think is those serial outputs. It take some time to design wiring, get parts and test. So - please wait or take just TV-out only. Same for GPIO lines. On the cable will be little plastics box that could be opened - it has cover clicked in (not glued). So I could solder wires and keep them available in this box.
I think that any length up to 5 meters should be OK, but I don't test it yet. So if You like long cable (even longer then 5 m) just ask. I'll test if it is possible or signal loose is significant. Or take short one and use extension cable available in local stores.
Prices: "Standard" cable - which means S-Video miniDIN + Composite RCA + stereo audio in/out RCA in length of 3 m (10 ft) is for 20 USD + 1 USD per every additional meter + shipping. I'll sort it by order time. If You are hurry or worry or anything else You can offer more and skip to the front of queue (offer what You think is valuable for You). I'll make it in my spare time.
Shipping should be something like this (it is up to 250 grams):
* Non-EU countries
** registered
*** priority (air) mail = 7.5 USD
*** ground mail = 6.5 USD
** standard
*** priority (air) mail = 5.3 USD
*** ground mail = 4.3 USD
* EU countries
** registered only
*** priority (air) mail = 6.5 USD
*** ground mail = 4.3 USD
PayPal fees: 0,66 USD + 3.9% of price (or You can pay as "Gift" and take fees on You own).
If anybody has ordered TinyBoBs and like to those plastics covers (shoved in pictures) or cables, please respond immediately so I could pack it into one package.
Please, respond here only if You have general question. Order in PM only and don't forget specify if You like "standard" cable, or something other. Specify length, provide postal address.
(Prometheus-edit: To avoid confusion, this thread was split from peca's other thread, and poll,
here
.)
Last edited by a moderator: