Administrator
Staff member
Joined

Mar 4, 2003
Messages

29,980
Age

45
Location
The time for the pre-preorder has arrived!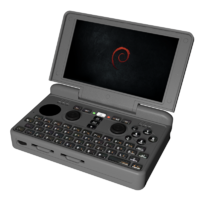 As promised yesterday, here are the two links for the preorders.
First, for everyone who wants to get a prototype:
https://www.dragonbox.de/en/352-pyra-prototype-pyra.html
And here is the link in case you want to make sure you get one of the first 200 mass produced units.
You will also receive a special limited dummy Pyra mainboard PCB including a serial number and signatures of Nikolaus and EvilDragon on them.
These will ship in November (without any additional costs!)
https://www.dragonbox.de/en/353-pyra-voucher-pyra.html
Some important notes about ordering the prototypes:
We're planning to produce 18 Pyra Prototypes in November.
10 will go to developers - and 8 will be sold here in the shop.
Delivery will happen shortly after the production.
In case the prototype production has issues and we won't be able to produce enough units, you'll get your payment back.
The prototypes will be fully assembled, already with an injection moulded case and a keymat. They will hopefully be fully working, so that the mass produced units should only have minor tweaks.
In case there's a huge issue with the prototype PCB, you will receive a new, fully working PCB for free when the mass production has started.
All prototypes will have the 4G module included.
Please don't expect fully working software from the beginning. The prototypes are being used by the developers to implement all hardware functions into the OS.
So the OS will be working, but some drivers are missing at the beginning.
You will be able to update the OS yourself and follow the development. Of course, feedback to improve things is very welcome here!
Each prototype unit will also get a certificate of authenticy.
Maybe you will even be able to choose your own case color - because with the prototype production run, we'll test multiple colors as well.
In this case, we'll contact you as soon as we know more!
Some important notes about pre-preordering one of the mass produced unit:
This is a special voucher for everyone who likes to shout "SHUT UP AND TAKE MY MONEY!" with every newspost I make about the Pyra.
Please note: The Pyra will cost more that that - but whenever the Pyra is ready, you can use this voucher to fully substract the 290 EUR from your final Pyra payment (which won't be necessary until the units are finished and ready to ship!) 
With this voucher, you make sure that you will get one of the very first 200 mass produced Pyras when it's ready. The faster you order, the lower your serial number will be.
This pre-preorder will end October 24th, 3:17pm UTC
You can place this order regardless which unit and accessories you want and regardless whether you will still get a discounted unit because you didn't get your iCP2 or Pandora - this will be taken care of with the final payment. 
Read carefully:
Please ONLY place this order in case you don't urgently need these 290 EUR. You can be sure we'll try everything to finish the Pyra, but still, with an unfinished product, there's always the chance it won't work out.
In this case, please wait at least until the normal preordering starts (when the prototypes are finished).
Last edited by a moderator: