Administrator
Staff member
Joined

Mar 4, 2003
Messages

29,977
Age

45
Location
We had a really, really succesful start and reached over 500 orders after a few days already (and 600 if you count in the remaining pre-preorders!)
You can always find a live statistic here:
http://p.rdw.se/pyra-preorder.html
That means:
We already passed the absolute minimum number needed for a small mass production run of 500.
After only a couple of days! You guys absolutely rock!
Of course, we're now aiming for the next goal... producing 1000 units. With 750 preorders, we should have enough to start the production of those.
Right now, sales are slowing down a bit, which is totally normal for crowdfunding projects.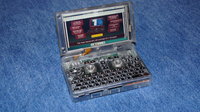 1. Let's spread the word!
Up until now, we have NOT approached any newssites in order to give the regular readers and long-time-followers the chance to grab one of the first units.
But now the time has come to spread the word and let others know!
That's why we created a
PressKit
which includes many free-to-use pictures as well as texts that explain the motivation and idea behind the Pyra.
You can use them anywhere you like: Spread the words via Social Media, forums, etc.!
You can also help translating the texts of the PressKit,
head to this thread to help out.
And while you're at it,
let us know which newssites you think we should approach at this thread here.
2. About voucher codes and pre-pre-order voucher codes and BitCoins
I made a small mistake setting up the pre-order and therefore, if you ordered May 1st within the first hour, you didn't receive a pre-order voucher code.
Don't panic! I'm currently creating them manually and you'll receive it eventually!
And if you didn't receive anything until Sunday night, drop me a PM or email (evildragon@openpandora.org).
About pre-preorder vouchers:
Sane as the Pre-Order voucher, the codes are NOT in your account but have been sent to you via eMail.
In case you can't find your pre-pre-order voucher code anymore, please do contact me, I can resend it to you.
If you pre-ordered via BitCoins:
This will take a few days. I've got a limit of 1000 EUR per day with BitPay (but absolutely no transfer costs), so that's 1 - 3 orders per day.
If you try to pay and receive an error from BitPay, it means my limit for the day is already reached.
Simply wait until I resend the email to you - I'm now handling this manually, so in case you haven't received a mail to complete your BitCoin payment: Don't panic!
3. Some information about the LCD
Even though I was mostly busy replying to mails and working on the PressKit, I tried running a few games on the Pyra Prototype that have ghosting issues on the Pandora: Like Phoenix (Atari 2600) where the bullets are nearly invisible, and Sonic 2 and 3, where the green trees turn the sky black with scrolling.
I wanted to record that on video for you, however, the camera can only do 25fps which is horrible for recording screens that run with 60fps.
But I can tell you: Pyras LCD is WAY better in that regards. I haven't seen ANY ghosting, it's a crisp and clean image!
And: Scanline-Simulation looks a LOT better as well, due to the higher resolution. They look great!
That's it for now!
Back to replying emails - and hopefully, I'll find time to do some videos soon